Turalla Truffles
Welcome to Turalla Truffles the home of the freshest French Black Truffle and truly mouth watering Truffles experiences.
Book a truffle Hunt
The Turalla truffle Story
Established in 2005 on a Property near Bungendore NSW , Turalla Truffles is set on the picturesque Southern end of the Lake George Basin, a half hour drive from the nations capital. We grow "Black Truffle" or "Black Périgord Truffle" (Tuber melanosporum) named after the Périgord region in France. The French black truffle is the fruiting body of the fungus Tuber melanosporum.
The fungus forms a symbiotic relationship with the roots of oak and hazel trees.  The edible portion, or truffle, is harvested in winter once it has matured.
"There are two types of people who eat truffles: those that think truffles are good because they are dear and those who know they are dear because they are good"
JL Vauloyer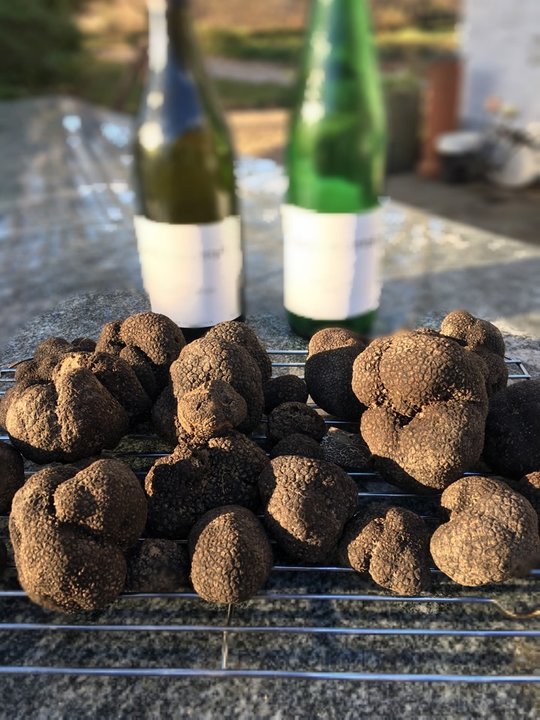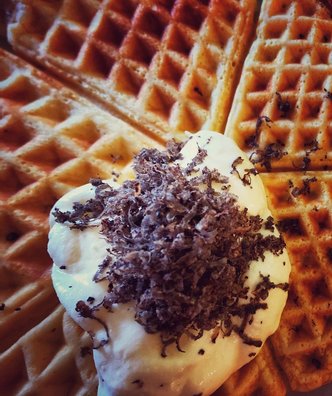 Help find that elusive Truffle.. then eat them!
Turalla Truffles are located close to the town of Bungendore which is 30 minutes from Canberra near Lake George. Join Damian, his family and Jack Russell dogs for a Truffle hunt then cook experience in search of the wondrous Black Truffle. Be guided through the process of finding Truffles with the help of the dogs and then deciding on what is ready to harvest. Along the way you will be enlightened on the facts, and some of the magic of this amazing fungi. For those just booking a hunt, you'll be treated to a light tasting of Truffles including (for adults) a shot of Damians famous Truffle infused Vodka to warm you up.
For those booking the Hunt then Cook Adventure you'll then see how to prepare and cook some of our favourite Truffle dishes after which we'll sit down and eat the lunch we've just cooked with a glass of wine and share some stories about all things Truffles.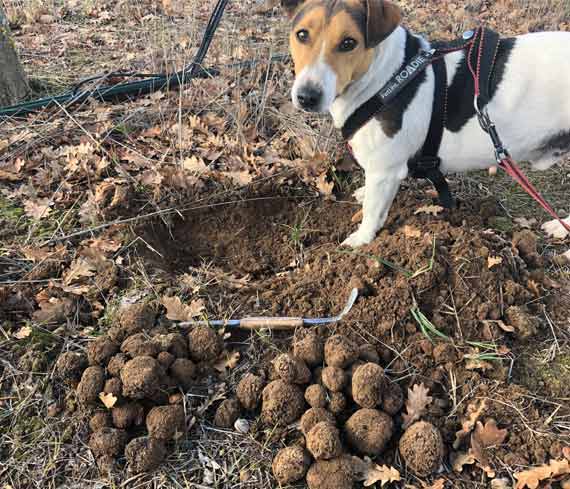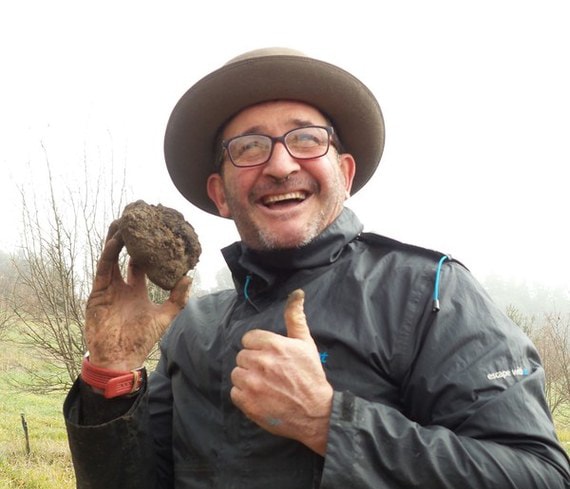 learn how to cook with truffle
Our Famous Turalla Truffle Lunches..
Turalla Truffle lunches and brunches have become a thing of legend. Having eaten multiple truffle meals cooked by so called truffle expert chefs, we have found a lot of truffle dishes fail. Why? Because usually people are using too little truffle and trying to do too much with the truffle. When cooking with truffle the secret is to 'let the truffle shine!' This means, dont use ingredients that are going to fight with the truffle flavour. Following our hunts, at our lunches, our aim is to blow your truffle minds! We feel you've paid good money for that truffle fix, so we don't plan on sending you home disappointed. So get ready…. you will eat a lot of truffle prepared with simple to learn techiques perfected from years of truffle preparation experience here in Australia and abroad. 
Below are a few of the dishes we have served at our events…
Turalla Truffle Shot
A light chicken broth served with either a truffle dumpling or home grown forest mushrooms topped with a shave of fresh truffle.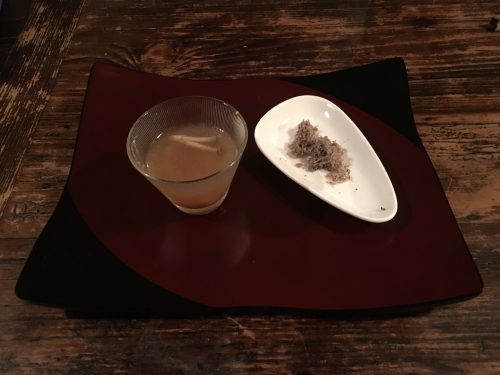 Turalla Truffle Crepe
A super light french style crepe served with bananas fried in truffle butter along with truffled custard and some truffle icecream and shaved truffle.
Turalla Truffle Nest
A lightly sheared Hokkaido scallop on an small Potato and leek Rostti drizzles with melted truffle butter, heated with fresh cream and a splash of Madera with a shave (or two!) of truffle on top.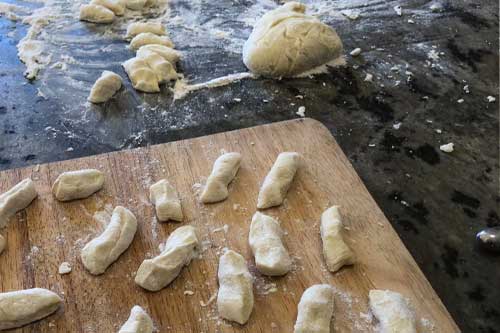 Turalla Truffle Gnocci  
Freshly made large gnocci finished in truffle butter and truffle infused cream with fresh Pecorino and a liberal shave of fresh truffle.
Turalla Truffle Pappardelle  
Truffle butter (and truffle infused cream) tossed through fresh Pappardelle with grated truffle infused Pecorino.  A 63 degree SV egg and shaved truffle on top.
Turalla Truffle Indulgence 

 
Truffle Ice-cream on top of truffle infused Panacotta topped with truffle infused honey roasted Hazelnuts and a slice of truffle.
Join us in Bungendore
for our Regional Truffle Weekend
In 2019 local truffles growers as part of The Truffle Festival are  holding regional Truffle events on several weekend in the month of July.
Stay tuned…
how about Your very own truffle experience
On farm Truffle Cottage Accomodation
Our accomodation is currently unavailable due to Covid 19.
During each Truffle season we are pleased to offer a package deal if you wish to stay at our on site accomodation. Maury's Cottage is our newly renovated, north facing farm style cottage accomodation with sweeping rural views. Featuring a modern, fully equiped kitchen, sunny, warm, enclosed veranda room and cosy sitting room with a big TV WIFI and wood fire burner. The large treelined garden has an firepit and BBQ for enjoying and relaxing in. With Accomodation for up to 6 people it features 3 large bedrooms with double and single style options. During the truffle season we are offering a package deal for $400 per night. You can value add your stay by including your choice of our Hunt- Lunch option (Saturdays) or the Hunt-Brunch option (Sundays) thoughout the season, depending on availability. Private Truffle Hunt bookings are also available on request. Contact us and we can design a package around your groups requirements.
Fresh truffle will be supplied for guests each night to try your hand in the fully operational kitchen or take home for later use.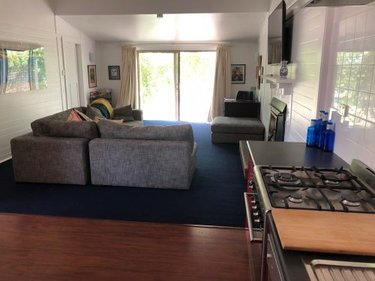 What People are Saying about us.
"Well worth getting down and dirty.."
Entering the truffière shows us what nature can deliver and how a relationship between the truffle hunter and a Truffle dog is so important. The reward is an amazing product, which is then skilfully turned into a 4 course meal, with the truffles flavour and texture enhanced with each course.
Karyn
"We did the hunt and lunch adventure, the food was amazing. Damian and his family are lovely people. My favorite foods were the truffle desert, truffle cheese, and the truffle pasta.
Watching the truffle dogs work is fantastic "
Dayanthi
"The ultimate truffle experience"
"A great day and great food. Very knowledgeable and informative. I highly recommend trying to book a spot and experience Damien's wonderfull Truffle dishes."
Scott
"Great morning spent hunting truffles! Learned a great deal and picked up a tasty treat. Family were lovely and super helpful, would definitely recommend a visit."
Maddi
SAT
10:00am – 11:30am Truffle Hunt
12:00pm – 2:30pm Truffle Lunch
SUN
9:30am – 12.00am Truffle Hunt Brunch
Drop Us a Line
Don't be shy. Let us know if you have any questions!